StUnCast 101: Hawaii I/O
Working in a creative field is both a blessing, and a curse. While your time spent working can be both incredibly satisfying and grueling, your time spent trying to relax is often peppered with the ever present sense of needing to create or continue working on your craft. That looming presence can be annoying and tiring the harder you try to fight it, but in accepting that it exists, you can use it to your advantage and satisfy both halves – What's better than coming back from vacation feeling both refreshed AND productive?
This week, we decided to start a new series of podcasts from Studio Unknown, that we're affectionately calling StUnCasts.
Episode 101 "Hawaii I/O" features Rich Bussey (Sound Editor and Foley Recordist) and I (Matt Davies – Partner, Super. SFX Editor) discussing 2 recent vacations to Hawaii from 2 different perspectives. Rich was staying with family, I was traveling with family on a cruise.
Listening, you'll hear some of the many recordings we both made in the Aloha State and how widely they range. We talk about some of the weird oddities in sound we experienced, from hoards of roosters to space fighter sounding fireworks.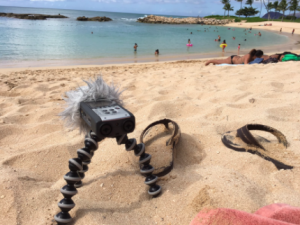 In addition, Rich and I discuss some of the ups and downs of using small/light recording equipment, which are very portable and convenient, but much more sensitive to the elements. There's also the issue of the recorders resembling tasers which can certainly be tricky when moving through TSA, find out more about that in the podcast.
This gear talk is applicable to filmmakers, sound recordists, and anyone working in or around sound because you won't always have access to high-end equipment, and, interesting sounds can happen at any moment.
The equipment used on the different trips consisted of a Zoom h4n, h2n and new Sony PCM-D100 – In addition to some miscellaneous binaural mics and hydrophones.
Take a listen and enjoy StUnCast 101 "Hawaii I/O"