StUn Wrap-Up: CUCALORUS 2015!
From the desk of Managing Partner, Jaime Horrigan:
For the third year in a row, Studio Unknown took the trip to Wilmington, NC for what we've quickly learned is a favorite fest among filmmakers from literally all over the world. And this year, we had the distinct pleasure of getting to celebrate the festival's 21st birthday!
What's so great about Cucalorus? For starters, it's fun! Not just "I had a good time" fun…..I'm talking brunch at midnight while wearing glow-rings and watching snippets of classic films repeat on screens all over the place in a rock club while live bands played and hula-hoop dancers took over the dance floor – fun. Or how about a 21st birthday party that lasted exactly 21 minutes, in the middle of the day, at a non-descript location? Where you get on an elevator and a man hands you some Jameson and pickle juice that you drink as soon as the elevator doors open to a NYC style loft DJ'd dance party, with a large clock projected onto the wall counting down the 21 minutes of fun – fun.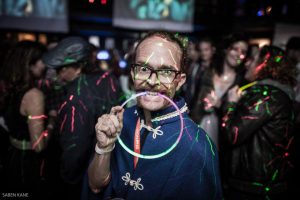 Just check out their submission page and you won't have to look hard to find their sense of humor. One of this year's submission requirements; "A recipe for the perfect 21st birthday (bonus points for illustrated recipes)."
Like any great event, it starts at the top. Just try keeping up with festival Director Dan Brawley (pictured above) as he moves through the fest for five days like a ninja. With Dan's zany energy, and obvious passion for films and the filmmakers behind them, it's no surprise that the staff, crew, and volunteers all seem to enjoy themselves, fully swept up in the craziness that takes over the city of Wilmington for a long weekend.
When you take in the crew, and all that the city and fest have to offer, it's no surprise that Cucalorus attracts an array of extremely talented filmmakers from all over the world. In just a few short days, Matt and I did a pretty good job of taking in a decent number of features, shorts, docs, dance films, and on. So many great projects in such a wide variety. And in most cases, the filmmakers were there. Whether they were local, or from LA, NY, London, Greece, Australia, or Spain (shout out to our talented new friend Alex Pachon!), they were there, mingling with fans, and supporting each other's films. I think this is one of the most impressive parts of this fest, and one of the best points I could make that shows just how filmmaker-forward Cucalorus truly is.
We would have attended either way, obviously, but this year we were very proud to have had the pleasure of supporting three features we worked on that screened over the course of the weekend, ARAM, ARAM…JUNE, ADRIFT…and IT HAD TO BE YOU. In most cases, the filmmakers were there with us, watching movies, meeting people from around the world, and staying up waaaaay too late each night, hanging out in the backyard at Jengo's Playhouse!
If you're a filmmaker, I can't urge you enough…submit your film to Cucalorus. If you're a film fan, a vendor, a supporter of the arts, this one is a no-brainer…..look for their yearly kickstarter campaign, and get yourself to Cucalorus in 2016. We'll see you there!